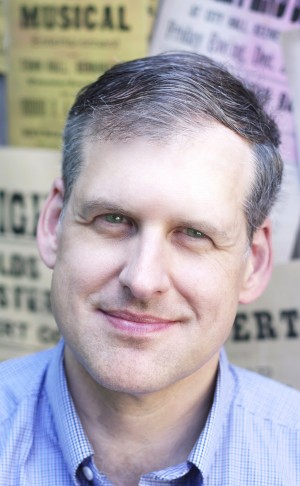 Conductor RICK BENJAMIN has built an exciting and one-of-a-kind career through the discovery and performance of historic American music. He is a tireless collector of lost scores which - once found - he uses to tell the story of America's music through concerts, broadcasts, and recordings.
Benjamin's odyssey began 1985 when as a Juilliard undergraduate, he rescued the missing orchestral archives of the legendary Victor phonograph company. This major discovery included nearly four thousand forgotten orchestral scores by hundreds of important American composers, including Scott Joplin, George Gershwin, W.C. Handy, Victor Herbert, Jerome Kern, and Sousa. In 1988 Mr. Benjamin made his formal conducting debut by bringing some of these treasures to Lincoln Center's Alice Tully Hall. Highly praised by the New York Times, this concert successfully launched Benjamin's unusual career.
Today, Rick Benjamin is the leading exponent of "America's Original Music" – the vibrant sounds of early Broadway, "silent" movies, and vintage dance. He has conducted his special orchestral programs across forty-nine states and seven countries, in major venues including the Ravinia Festival, The Kennedy Center, the Smithsonian Institution, Chautauqua, the Kimmel Center, New York's 92nd Street "Y" and City Center, Austria's Brucknerhaus, and the U.S. Pavilion of the World's Fair (Seville, Spain), as well as in hundreds of America's "movie palaces" and historic theaters.
For the past thirty-five years Rick Benjamin has been Artistic Director and pianist of the Paragon Ragtime Orchestra, the noted repertory ensemble that he founded at The Juilliard School. PRO tours year-round and has recorded nineteen critically acclaimed albums (including a BILLBOARD-charted "Top Classical Album"). In recent years Mr. Benjamin was honored to receive three major critic's awards for his box set recording of Scott Joplin's opera Treemonisha: Gramophone's "Editor's Choice," BBC Music's "Opera of the Month," and Stereophile's "Record of the Month."
Rick Benjamin is also a leading expert on silent film music and silent film presentation, and has conducted for over seven hundred screenings with the Paragon Ragtime Orchestra, the Irish National Orchestra (Dublin), Denmark's Aalborg and Aarhus Symfoniorkesters, the New Jersey Symphony Orchestra, the Iceland Symphony Orchestra, the Virginia Symphony, Olympia Symphony (Washington State), the Anchorage Symphony (Alaska), Chamber Music Hawaii and other innovative ensembles. Benjamin curates these popular movie programs from his vast personal collection of original, authentic 1898-1928 film scores and orchestrations.
Away from the concert stage, Rick Benjamin's melding of superb musicianship with outstanding scholarship has made him a sought-after resource for the entertainment industry, the media, and academia. He has lectured at more than a hundred universities, and his performances have been heard in the productions of the Walt Disney Company, the BBC, PBS-Television, HBO, the FX Channel, Turner Classic Movies, NPR, and more.
Rick Benjamin is a member of the National Academy of Recording Arts and Sciences and BMI.
Rick Benjamin is a New World Records artist.